Where do the articles you're linking to come from?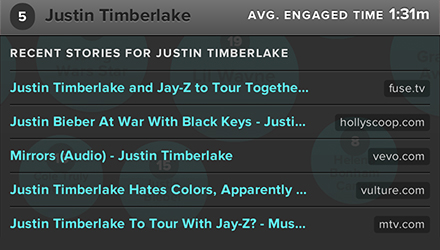 Got more questions or comments? Tweet at us
or email us, we'd love to hear your thoughts.
When you click on a Rising bubble (and please do!), you'll see a list of articles that give you context as to why that particular term is rising. So if you see "Saved by the Bell" rising in Entertainment, click on that bubble and you'll be linked to, for example, articles about Mark Paul Gosselaar confirming a SBTB reunion, clearly warranting Hollywood buzz.
The article links themselves are NOT pulled from the Chartbeat Universe - our clients data is confidential unless they decide they want to share it. We pull these articles from a couple of sources across the web including Bing.